It's feeling fulfilled Friday on MamaBlogga! Here's how it works:
Make a list of things that make you feel accomplished (but aren't so huge that they take more than a day or a week)
During the week, try to focus on those things that help us feel accomplished
Report on feeling fulfilled Friday and enter the GWP to win an Amazon gift card!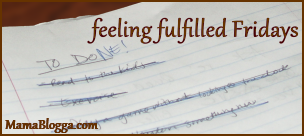 Ugh. I'm flattened by a rough cold.
But we've had some good days this week. I've done pretty well on making healthy dinners (until tonight), and when my in-laws were here, we watched almost no TV (and they made me take a nap because I was sick, woot!). And I read The Guernsey Literary and Potato Peel Pie Society and Catching Fire this week—two good books. AND I worked on school stuff with the kids at least a little.
AND I need to go lay back down.
How has your week been? How is your list coming?