It's feeling fulfilled Friday on MamaBlogga! Here's how it works:
Make a list of things that make you feel accomplished (but aren't so huge that they take more than a day or a week)
During the week, try to focus on those things that help us feel accomplished
Report on feeling fulfilled Friday
This week I happened to come across my list again and reread it. (The last couple weeks I've been working from memory.) I'd forgotten that many of the things I had on my list were so simple.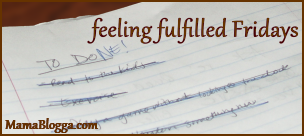 And I think that's the bottom line of this exercise: recognizing the simple things in motherhood that make us feel good, like we've done something productive, and focusing on those things.
Motherhood isn't about doing—but most of motherhood is doing. If we can do more of the things that make us feel good about what we're doing, I hope we can feel better about what we're doing as a whole.
Edited to add: Lindsey's feeling fulfilled!
What do you think? What makes you feel accomplished? Are we ready to participate?
Enjoy this entry? Subscribe to the full RSS feed or e-mail feed!
2 responses to "Feeling fulfilled Fridays 6"