Table of contents for Blogging Add-ons
Last week, I offered some basics of FeedBurner. This week, I have seven ways to master FeedBurner. You probably won't need or even want all of them (I don't), but they're pretty cool and you never know what might come in handy!
1. MyBrand. This service, found under My Account, is absolutely great for anyone who owns his or her own domain. Instead of your feed address being http://feeds.feedburner.com/feedname, your address can be http://feeds.yourblog.net/feedname.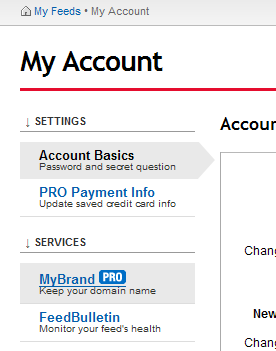 Why is that so cool? It means that, should something terrible happen to FeedBurner, your subscribers are all subscribed to your domain and it will be easy to keep your subscribers and move them. Although BlueHost hasn't been very helpful (why can't I just make my own CNAMEs?!), this should be very easy to do, if a bit technical. Danny Sullivan of Search Engine Land wrote a definitive tutorial on MyBrand back when the service charged a nominal fee; today the service is free!

2. Title/Description Burner. Found under the Optimize tab, FeedBurner's Title/Description Burner let you change the title and description on your feed without altering your site in anyway. If the title of your blog is coming through garbled or would be displayed better in a different format on your feed, use this easy service to make them pop!

3. Feed Image Burner. Speaking of popping, FeedBurner also has a service to insert an image into your feed. Also found under the Optimize tab, the Feed Image Burner is great for adding a logo to your feed stories to distinguish your blog from the dozens of other identical-looking stories passing through your subscribers feed readers every day. It's also a good way to brand your blog and quickly remind your visitors of what blog they're reading. I know I'm not always the best about remembering which mommy (or search marketing) blog is which on name alone—but a logo might help!

4. Headline Animator. Another great way to brand your blog, the Headline Animator is found under the Publicize tab. Use the same colors and images that appear in your website and logo to create a custom animator, then include that graphic wherever appropriate. I've seen them in email signatures, blog sidebars and, as FeedBurner puts it, "anyplace you can put a snippet of HTML," all promoting your blog.

5. Email Branding. Under Publicize>Email Subscriptions, Email Branding can help you make the email version of your feed stand out in your subscribers' inboxes—and make your email subscription look more like your blog itself. Here you can customize the subject
line of your feed emails as well as their appearance. As with the Feed Image Burner, you can include a logo to remind readers what blog they're reading. You can also customize your font (but you're limited to the five major font families: Arial, Verdana, Trebuchet, Georgia and Times New Roman), size and color of text and links. As with the Headline Animator, using images and colors from your blog can provide a sense of continuity for your readers. My own logo, at right, is a version of my header.

6. Link and/or Photo Splicer. Under the Optimize tab, these two options make it easy for you to include extras in your feed that you might not be able to otherwise: links from various social bookmarking sites (del.icio.us, Digg, etc.) and photo sharing sites (Flickr, Buzznet and Webshots only). No tweaks, no plugins, and you can even set them to update once an hour, once a day or once a week. If you tag your images in Flickr, you can set it to only include pictures with a particular tab, too—keeping the rest of your photos more private.

7. FeedBurner Ad Network. Found under Monetize tab, the FeedBurner Ad Network can help you make money from running ads in your RSS feed. I personally cannot vouch for how hard it is to be invited into the network, since I've never tried, nor can I vouch for how much you can make off the ads, but if that's something you're interested in doing, FeedBurner already has a way to do it set up.

One last capability that isn't as neat-o as these seven, but is one of the major advantages of FeedBurner is the ability to change your blog address and easily transfer subscribers. Click on Edit Feed Details to find the box where you entered your feed address. Should you move your blog, you can easily update this address to your new one, without sacrificing your subscribers.