A few months ago, we looked a how to sign up for and use Amazon Associates, an affiliate marketing program that gives you a small percentage of any sales you generate for Amazon. Now Blogger is making it even easier to use Amazon's program—without ever leaving your post window.
You may have noticed the Monetize tab Blogger added back in April. Up until yesterday, only Google ads (AdSense) for your site and feed appeared here. Now you can also find your Amazon Associates information there, too.
To start, go to Monetize > Amazon Associates. Here you can either enter your Associates ID if you already have one, or start the sign up process (and again, we have a step-by-step walk-through on signing up for Amazon)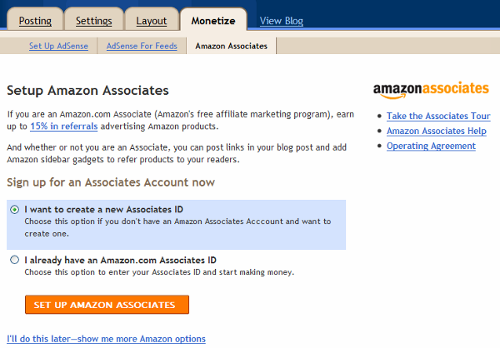 Once you're finished with that step, you have the option to add the Amazon Product Finder to your Edit/Compose New Post page. I say go for it, and I'll show you why.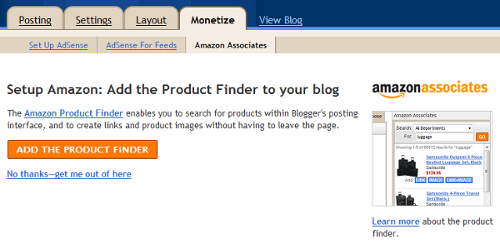 The Product Finder is a widget that lives on the Compose New/Edit Post page. When you're working on a post and you want to include a product link to Amazon, just type in part of the name or highlight the title in your post (you can also search by category with the pull-down menu where it says "Amazon.com").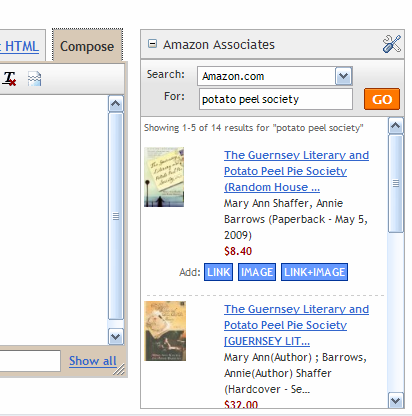 Once you find the product you want, you can choose the link type to insert into your post—text, image or both. In my example, I went for both: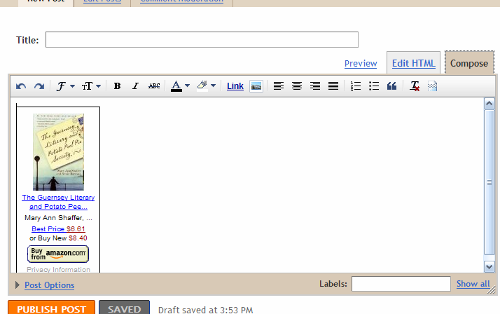 There are lots of other ways to use Amazon on your blog—so get started!