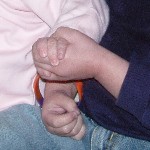 As of yesterday, I've been a mother of two for nine months. It hasn't been everything I expected—or maybe I should say feared. Yes, at times it has been very stressful (especially lately with both children suddenly thinking they need to make sure I wake at least every hour during the night).
But, as I always seem to find, enjoying motherhood is less about what my kids do and more about who they are. Of course, that's also manifest in their actions, but their little personalities are some of the biggest joys of this life.
Especially when their little personalities get along so well.
Naturally, Rebecca is fascinated with Hayden. She can't keep her eyes off him when he's in the room. She laughs easiest at his antics. Even his mere presence can be enough to elicit a giggle.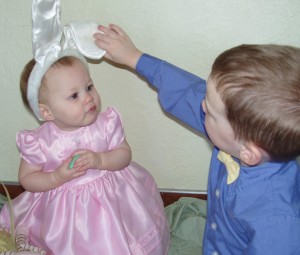 And for his part, Hayden loves his little sister "Werbecca" very much. His favorite things to do seem to be helping to sing a lullaby before her naps and bedtime ("Baby Beluga") and being there to wake her up after her naps. (Of course, since she finds him so interesting and entertaining, sometimes his efforts to help put her down aren't so helpful after all, but it's still sweet.)
A recent comment here really struck me. Mom on the Go said:
Don't wait for the day that you can say it's worth it. Wait for the moment. Grace comes in all lengths of time. The short ones seem to come with the small kids.
A few weeks ago, I let Hayden go in to talk to Rebecca after she woke up from a nap, while I was finishing up something on the computer. I came in to get my giggling children and I found one of those moments just waiting for me: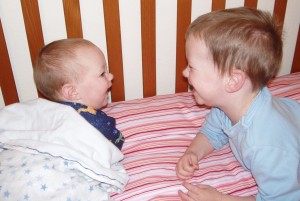 What moments have you found lately?