Last April, I wrote an open letter to Google Blogger users, asking you to please use the header navbar because that was the only way most people could search your site. (Personally, if I really, really wanted to link to or comment on an older post on your site, I do know a few tricks, but it's still extra work for me—and do you want to make me work more when I'm trying to link to you?)
Well, even if you didn't listen (for shame!), Google did. I mentioned almost a year ago that Blogger in Draft had added two cool, user-friendly features for Blogger users to try out: a comment form right on the post page and a search box gadget (AKA widget). However, to put those features on your blog, you had to move your blog from regular Blogger to Blogger in Draft.
Then last October, Blogger moved the comment form to regular Blogger, meaning you can put form on your post pages for people to leave comments, just like WordPress and Typepad blogs. And yesterday, regular Blogger finally got the Search Box Gadget!
To add a search box to your Blogger sidebar, go to Layout>Add a Gadget. Select Search Box from the list. Then you get a list of options:
Here you can set the title for your search box (I don't think you really need one, but "Search this blog" is fine, too). The check boxes allow you to choose what tabs you want to see in your final version.
Here's a look at the search results: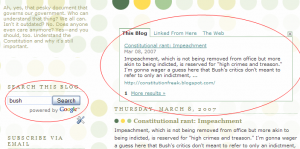 See how it says "This Blog," "Linked from here," and "The web" across the top? Clicking on each of those reveals a different pane of results for the same search term. Also note that these search results are inserted right above your blog content.
So help out the people who want to read and link to your archives today and add the Search Box Gadget!