Last week (almost two weeks ago, man), we celebrated Rebecca's first birthday with my in-laws. She got some fun toys, a couple adorable outfits and a cute towel set (which is doubly good, since she's never had any towels of "her own." Poor deprived kid.).
We had angel food cake with strawberries and whipped cream. She ate almost her entire piece!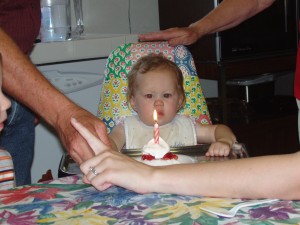 (That's my hand at the bottom telling Hayden expressly not to blow out the candle. Not that I thought Rebecca would/could, but man, give her a chance! Going through the ~125 photos on the camera to find this one, though, I found enough pictures by Hayden to complete his photographic introspective, The World from Waist-Level.)
July was a crazy-busy month for us. My family was in town for a family reunion and extended visit, and then we rushed down for another family reunion. (10+ hours in the car each way. Have I ever mentioned that the kids don't sleep in the car for more than 45 minutes a day?) I hope things will get more normal for us now, but as much as I like the new-found quiet, it's sometimes a little empty.
What are your favorite parts of your family visits? Least favorite?