I just made a Rachael Ray recipe for dinner tonight, and now I have 3/4 of a bottle of curry paste leftover—and nothing to use it in (unless I want to roast 8 cups of vegetables to make this again).
What to do?
Hooray, I get to save like an entire minute with this little gadget: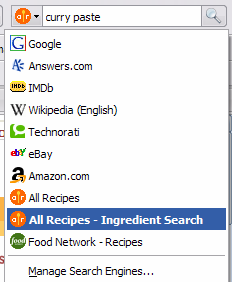 That's my built in search engine box in Firefox (highly recommended browser, by the way!). Want an ingredient search? Look at this page. The ingredient search is the second one listed; the plain AllRecipes search is first. I use both.
The other search engines are available from addons.mozilla.org and mycroft.mozdev.org.
Blogging Tip
Do you have a recipe blog? You can submit your recipe blog feed to Google Base (with some formatting) and get a pretty decent likelihood of being ranked for relevant recipe searches.