It snuck up on me again: today is my blogoversary. Blogiversary? Whatever.
Four years. I've been blogging for four years. I keep thinking that must be wrong, but then I remember I started when Hayden was a few months old, and now he's four, so it must be true.
If I'd been paying attention (and not distracted by something so non-time-consuming as a new baby, a toddler, and a preschooler

), I could have had a wonderful party set up here for you today. Instead, you'll have to make do with my thoughts. But, hey, that's what blogging's all about anyway, right?
I started this blog for the same reason lots of people start their blogs: I wanted to keep my far-off family updated on my kids' (well, kid's at the time) life. And I was bored.
Actually, the boredom part played a big role in starting the blog. While I knew being a mother was where I belonged, I still felt overwhelmed—and bored. I vacillated between wondering How can I handle all this? to Is this it?
And I kept waiting for the sense that I was in the right place, doing the right thing—that all this effort was worth it. Fulfillment. But no magic wand bestowed fulfillment on me. I didn't wake up one morning with the peaceful assurance that one day—perhaps even that very day—my children would rise up and call me blessed.
I hoped I wasn't the only one.
Over the last four years, a lot has changed. Our family has grown—and slowly, but not-so-steadily, so has my contentment with motherhood, my current season in life. I've come to learn that "finding" fulfillment is misleading. We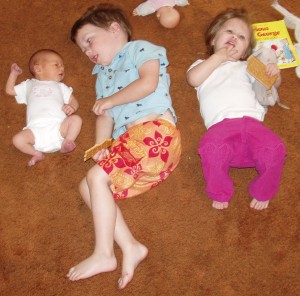 choose happiness, and then it comes to us.
It's something we must recapture every day, sometimes. It's easy to lose. To be honest, a big part of the reason why this blog has been so quiet these last few months is that I lost it, big time. (And some days, it felt like I was seriously "losing it"!)
Things have been wonderful since Rachel was born, even being on my own for the last four days. It's not because the nature of the thing—motherhood—has changed. My capacity for doing, on the other hand, has. The newborn days are still tough (I swear Hayden and Rebecca could be put down once in a while…), but I know they'll come to an end, and my tiny little girl will grow into a toddler who's stringing together four and five word sentences (before her second birthday!), and then a preschooler making amazing connections in logic and reasoning, and on.
I'm trying to treasure them as they are now and imprint them on my heart at each stage, because soon the amazing new things they're doing and saying will fade in novelty, or out of their vocabularies forever. (Rebecca just stopped calling her brother "Hee-ah" last week. "Hay-DEN," she corrects us.)
How do you treasure today? How has your foundation for fulfillment evolved over time?
Enjoy this entry? Subscribe to the full RSS feed or e-mail feed!
4 responses to "Four years of fulfillment: blogoversary reflections"