Table of contents for Mom Blogging Advice
Ready to make your blog unique? This may look like intense coding, but it's really not that hard.
Favicons
Favicons are the little pictures that show up next to your blog's name on the address bar. Look where it says "http://www.mamablogga.com"—see the tiny picture of Hayden? So cute.
Here's another example (the little pink 5, the MP, the Gmail logo):


Favicons also show up in bookmarks, which helps visitors remember your site better: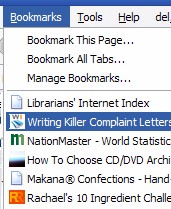 I know you want one now—and you're not alone. In fact, some of my favorite blogs are without favicons. So I made some for them:
scribbit:

; An Island Life:

; 5 Minutes for Mom:

(If there's one there for you, feel free to take it!)
(To make your own, create a square image and reduce it down to 16 x 16. Michelle at scribbit mentions a site that will create a favicon for you. You may want to save it as favicon.ico; read on to find out why.)
Now what? Well, if you're your own hosting, just look through your files and find 'favicon.ico.' (If you're on Bluehost (aff), for example, it's under the www folder.) Upload your own favicon.ico and overwrite the file.
If you're not hosting your blog yourself (i.e. you're on wordpress.com, typepad.com or blogspot.com), don't despair! You can get rid of the W/speech bubble/B. Upload your picture to your blog (you can use an old post that you don't mind sticking an image in, or you can simply use a draft—the post doesn't have to be published). Copy the location of the image. (In Blogger, it's something like http://bp2.blogger.com/<crazy strings of letters & numbers>/favicon.ico . Replace the example.com URL in the code below with the URL of your picture:
<link rel="shortcut icon" href="http://example.com/favicon.ico" />
<link rel="icon" href="http://example.com/favicon.ico" />
In Blogger, go to Template > Edit HTML. After the opening <head> tag, paste the above code (with your picture's URL). Save and check it out! In WordPress & TypePad, if you can edit your <head> tags, do the same there.
Can't find the right place? Here's a screen shot to help. The first arrow shows the favicon code; the second shows the place for the next part.


Branded Headers
Add a tagline or phrase to describe your blog in your headers: mine is "mom's search for meaning," scribbit's is "A Blog About Motherhood in Alaska" (Michelle mentioned this in January).
In WordPress, there's a plugin to help with this, though even I had trouble getting it to work for a while (now it works great). When editing your headers in Blogger, WordPress or TypePad, leave what's already there and add something right before the </title> tag. This phrase will appear on every page on your site (and some of your friends might start using it in their links back to your blog).
Not only can this have some effect on your search engine rankings, but (more importantly in my opinion) it also helps your visitors figure out what your site is about. I know I'm very used to looking at my site; I know exactly what it's about and how it works and how to use the navigation. However, if a visitor comes to my site for the first time, I want him/her to be able to figure out what my site is all about very quickly.
---
Any questions/clarifications/cries for help? Leave them in the comments and you might win a prize!