It's finally here! I've been meaning to put together this guide to changing from a custom domain on Blogger to "self-hosted" WordPress, and I finally sat down and did it. Hooray!
Also: check out my guide to setting up WordPress on BlueHost, an inexpensive, WordPress-recommended hosting company!
If you find this helpful, please consider signing up for BlueHost with an affiliate link. I get a percentage of any purchase made through my link.
If your Blogger blog is at http://www.YOURBLOG.com/, you're using a Custom Domain on Blogger. I think that's a smart move—but switching to WordPress can be even smarter if you're up for it. WordPress offers greater flexibility and customization, but probably the best reason is that you're totally in control of your layout and content. As you're shopping for hosting, I've really liked my experience with BlueHost. I receive a percentage of sales make through this affiliate link, but I have been with BlueHost, a WordPress-recommended host, for over five years, and I've really loved them.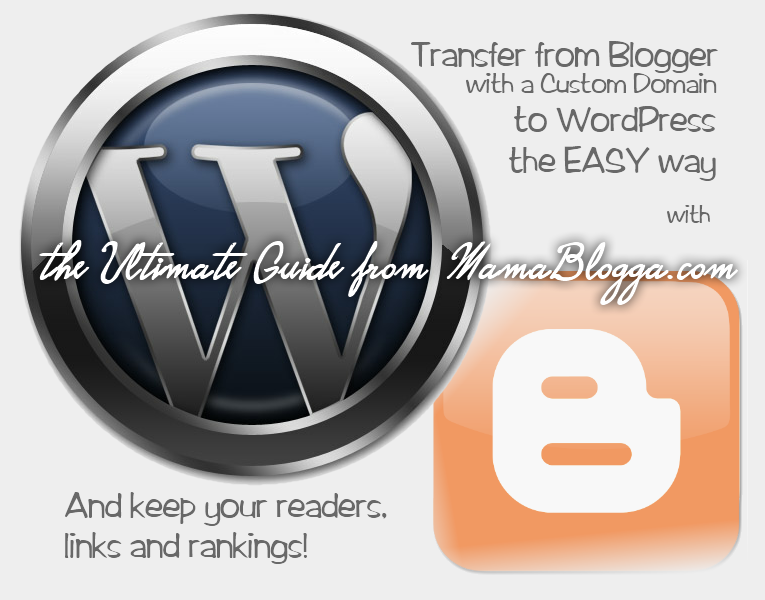 This guide is directed exclusively at people using a Custom Domain on Blogger (i.e. your blog is NOT on blogspot.com). If you're on blogspot.com, I recommend my ultimate guide to migrating from Blogger to WordPress. This guide will borrow heavily, because a lot of the basic process is the same, but there are some important differences to take into account.
The good news is that your migration can be even more seamless—so let's get you moved!
Get the goods: a domain, hosting, and the WordPress software
1. Unlock your domain. Yes, you already own your domain, but right now, it points back to your Blogger blog. If you purchased your domain separately (i.e. not through Blogger), you can skip this step. If you purchased your domain through Blogger—most likely, through enom or GoDaddy via Blogger—you need to be able to control the domain to point it to your new hosts. Often you'll have to turn off domain privacy, then unlock the domain.
Here's how to unlock your domain. For more on managing your domain from Blogger and exactly how to unlock it, check out this post and the comments. Once your domain is unlocked, you can edit it or transfer it if you choose. You can keep it the current registrar, too, as long as you can edit the nameservers to point to your new host (see step 2), telling web browsers (via the Internet's DNS) that your URL now points to your new hosted site.
Transferring the domain isn't too hard. When you unlock it, the registrar will give you am EPP verification code, which you'll need to enter at your host when you try to transfer the domain. You can do this when you sign up for hosting (step 2). For step-by-step help with with transferring a domain from Blogger to BlueHost, check out this post.
2. Get hosting. I recommend Bluehost.com (I receive a commission off sales through this link, which costs you nothing); they came highly recommended and are a pretty good deal. I've used them for over four years and I've always been very happy. Also, they're one of WordPress's recommended hosts and feature a very simple install for WordPress.
When you sign up, you can transfer your domain as part of the registration, as long as you have that unlock (EPP) code from step one. You do not have to transfer your domain—some people recommend keeping your domain ownership and your hosting with separate companies, but personally, I like having everything in one place. If you do not transfer your domain, however, they'll probably try to convince you to put up another domain. Hosting has to point somewhere.
If you decide not to transfer your domain, change your nameservers to point to your new host. Transferring your domain may or may not change your current nameservers—meaning that it might shut down your blog for the present. It's difficult to move without some down time, so plan accordingly. (To minimize that as much as possible, you might consider using a "test" subdomain, like beta.YOURDOMAIN.com, to get your layout, etc. ready.)
3. Install WordPress. With Bluehost, just login to your control panel, click on Simple Scripts under Software/Services, select WordPress from the list, and click the green Install Now button (under Install on an existing server—even if you're importing your old blog, you'll be using a new installation of WordPress). Fill in the forms and you're done. If your host doesn't have a similar install, you'll have to install manually. It shouldn't be too hard; WordPress gives you instructions (and they claim it takes five minutes!).
Prepare to transfer your feed: you don't have to lose any subscribers
4. Blogger enables you to transfer your subscribers seamlessly as well. I recommend using FeedBurner. If you haven't already, sign up for a FeedBurner account (if you need a walkthrough to FeedBurner, check it).
Then, login to Blogger and go to Settings > Other > Site Feed. In the Post Feed Redirect URL box, enter your new FeedBurner address. This will help redirect your subscribers.
If you don't want to use FeedBurner, you can also use this box to direct your old feed directly to your new blog feed by entering http://YourURL.com/feed (with any folders or anything else in your URL).
There will be another step dealing with transferring your subscribers later, and you need to do both (and especially the later one).
Prepare your new WordPress blog: with some fun stuff
5. Login to your WordPress (might take a little time for the installation to "take"). Select "Settings" then "Permalinks." Select "Custom" and type this line in the box:
/%year%/%monthnum%/%postname%.html
This is to match the post structure of your Blogger blog, to minimize the number of broken links and redirects.
Wendy Piersall has a few more steps to setting up your initial WordPress installation and getting it off the ground. All good steps!
Gidget at Homeschooling Unscripted made the move using the last edition of this guide this year, and she reports that "The SEO Blogger to WordPress plug-in allows a redirect even if you use a different permalink structure – and it also has a single step to import your photos so that the featured images in your theme work."
To install the plugin, see the directions here.
Move your posts and comments
6. This is the easy part—and another spot where Custom Domainers have to do something a little different. In Blogger, go to Settings > Basic > Publishing. You must turn off the Custom Domain to transfer the posts, so edit this setting and move back to a Blogspot.com address.
Next, in WordPress, go to Tools > Import. Select Blogger from the list. You'll have to install the plugin. Once it's up and running, enter your Google login information and grant access to your account. Click the "Import" button next to the correct blog and this should automatically transfer all your posts and comments for you. 😀
However, some of your links won't work anymore because Blogger and WordPress convert post titles into URLs differently—Blogger leaves out stop words like "and" and "the." You can fix this, too, with another handy plugin, Redirection. Upload it, activate it and you can use it to easily track and redirect individual broken links (for example, from "/this-best-post-ever.html" to "/and-this-is-the-best-post-ever.html"). This plugin comes in handy for fixing the broken subscription link.
There are also some other plugins to do this automatically. To get these (or any) plugins, in WordPress go to Plugins>Add New. Search for the plugins by name or related terms. (Searching for "blogger permalinks" brings up some plugins that can help with this and some of the other technical stuff.)
Transfer your feed: keep all your subscribers
7. If you're using FeedBurner, login, go into the feed and click on "Edit Feed Details." Change your Original Feed to http://YOURNEWURL.com/feed/ .
8. In WordPress, you'll probably want to use FeedBurner as well, and if so, there's another plugin to integrate the two services perfectly, FeedSmith, owned by FeedBurner (which is owned by Google). (FeedSmith is still available. I promise. But you might have to download it and then upload it to the plugins page from your computer.)
8b. If you're using a plugin to handle redirection, you might also want to redirect your feed URL from inside WordPress: YOURNAME.com/feeds/posts/default to YOURNAME.com/feed/ . Some of your readers might subscribe to your blog through your old name with the RSS file name on Blogger, and this makes sure they'll move to the new RSS file name on WordPress.
Change over the URL: the final steps to move your blog
If you've always (or almost always) used a Custom Domain on Blogger, GO TO STEP 9A. If there might be some links to Youroldblogname.blogspot.com still floating around on the Internet, GO TO STEP 9B
9A. Turn off search engines to your old blog. If search engines see two copies of your content around the Internet, they may try to penalize one or both of your sites for "duplicate content." While this "penalty" has often been made out to be a bigger deal than it really is, if you want to be extra careful, go into Blogger and go to Settings > Basic > Privacy. Click on Edit. For the question "Let search engines find your blog?", select "No" and save changes.
I only recommend this if you've been using Blogger's Custom Domain. This is because existing links to your blog should use the custom domain already, so they'll go straight to your new blog. They won't have to go through your old blog to work. (People using a .blogspot.com address need the redirects to work for existing links to work. However, Blogger is working very hard to break that capability.) YOU'RE DONE!
9B. Back in Blogger, select Settings for the blog you want to transfer. Select Basic and scroll down to Publishing. Turn back on your Custom domain. (Continue to step ten.)
10. Alternatively, still in Blogger, go to Layout>Edit HTML. Place the following code anywhere after <head>:
<meta content='0; url=http://YOURNEWURL.com/' http-equiv='refresh'/>
This sends visitors to your blog homepage directly to your new URL, and, as Sebastian's Pamphlets says, is a search-engine safe method of redirection.
Like the change in step 9, this can show visitors a warning page that they're being taken to another domain. Some might think that it's just as good to put a link to your new URL in your old blog and leave it up. However, it's better for your search engine rankings to transfer it like this—if search engines see two copies of your content around the Internet, they may try to penalize one or both of your sites for "duplicate content."
Be sure to test your main blog URL as well as some of your old post URLs to make sure everything is working, and of course, be subscribed to your feed to make sure that's in order as well.
And you're ready to blog on wit' yo' bad self.
Note: You might have to import your images to WordPress as well, but I haven't. However, the last plugin listed in #5 can handle this too!
Feeling brave? There are other ways to transfer your blog from BlueHost to WordPress, but they are more technical. This tutorial seems to be the easiest of these. Good luck!
Also: check out my full guide to setting up WordPress on BlueHost, an inexpensive, WordPress-recommended hosting company!
If you find this helpful, please consider signing up for BlueHost with an affiliate link. I get a percentage of any purchase made through my link.
Disclosure: the Bluehost link is an affiliate link.