updated for 2012
Don't miss the ultimate list of family costumes!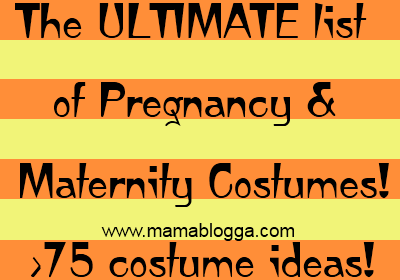 I was almost six months pregnant with my first when Halloween rolled around. I was completely stumped for a good costume, and we had a party to go to. After looking on dozens of message boards and lots and lots of web searches, I assembled the granddaddy of all lists of pregnancy-related costumes.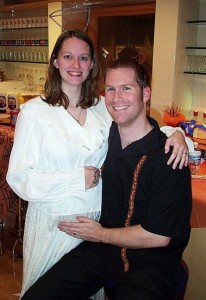 I realize that not everyone is looking for a couple/pregnancy costume, so the list starts off with "stand alone" costumes that highlight your "baby bump." Next is couple costumes, although there is some overlap between the two. Most of the costumes were fairly self explanatory, but I elucidated a bit for a few. Please note that I'm not saying that I think these ideas are good/creative/funny; they're just everything I found. Also note that any links in the list are affiliate links; I get a small percentage of any purchase made after clicking on the links. Not all linked costumes are "maternity" costumes, but they may still fit.
Not the costume type?
Check out these "instant costume" t-shirts, including a skeleton baby, "I'm dressed up as my mom," jack-o'-lantern print and "This year my costume is 'exhausted pregnant chick.'"
Stand Alone
8 Ball (you could even be magic, if you feel so inclined)
alien creature coming out of your belly
Baker's Wife ("Into the Woods")
bumblebee
bump in the road (wear all black, use sticky-backed felt strips to create road markings. Stick some cars on your belly)
Fairy/fairy godmother
fishbowl
gumball machine
gypsy
man with a belly
marshmallow (Stay Puft Marshmallow Man, anyone?)
Mike Wazowski ("Monsters, Inc.")
Minnie (accessory kit)/Mickey Mouse
the Moon
Mother Earth/Mother Nature
"Mummy"
Pillsbury doughboy
pregnant hippie
pregnant nun
pregnant schoolgirl
Pumpkin/jack o'lantern—paint your shirt (or if it's warm and you're a bit of an exhibitionist, paint your belly)
skeleton with baby skeleton on your belly
Sneetch (star-belly or plain-belly)
trashy lady/man
Violet Beauregard Blueberry ("Charlie and the Chocolate Factory")
Winnie the Pooh
Couple Costumes
There were a few things on my list that were "topical" (read: "dated"). Can you tell what year this was?
Britney Spears and Kevin Federline
Padmé and Anakin Skywalker (or Darth Vader) ("Star Wars")
Sidney Bristow and Michael Vaughn ("Alias")
My favorite idea wasn't really related to pregnancy, but adorable: Sesame Street Martians (see for awesome instructions instructible and their family song if you've forgotten it .) I told my husband it'd be cute to put "Yip, yip, YOU!" on his back and "Yip, yip, ME!" on my back and "Yip, yip, BABY!" on my belly. Ryan laughed at me.
Our choice? That's us at the top of the post. The day of the party, I got some pipe cleaners and headbands and made myself a halo and Ryan a set of sparkly red "horns." He wore his red boots and his shirt with flames on it; I wore a flowy white shirt and skirt. It ended up being so flowy that almost no one could tell I was pregnant. Oh well.