Don't forget to check out the ultimate list of maternity costumes, too!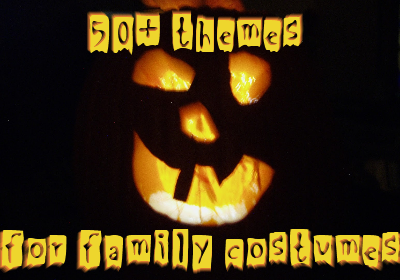 Halloween is coming up and we love to dress up as a family (since the kids are still young enough to agree!). We haven't settled on this year's costume, so I'm coming up with as many ideas as possible. We always make our own costumes (and I've included pictures of every year here) in a family theme. Please note that I'm not saying that I think these ideas are good/creative/funny, nor that you should buy these costumes; they're just everything I found. Also note: the links below are Amazon affiliate links; I earn a small percentage of any purchase you might make after following the links. (Thanks!)
Most of these use "babies" to mean toddler or infant, and "kids" to mean grade schoolers (since, let's face it, how many teens do family-themed costumes?).
Hope this helps!
UPDATED FOR 2012!
Contents:
Disney | Other movies | Fairy Tales & Nursery Rhymes | Classics | Food & Candy
Disney movies
Aladdin
Daddies: Aladdin (Prince Ali Ababwa or red fez), Jafar (Hat), the Sultan, the Genie (and lamp)
Mommies: Jasmine, the Genie
Sons: Abu, Aladdin
Daughters: Jasmine (purple wedding outfit, blue outfit, or modest blue outfit)
Babies: Jasmine (modest purple wedding outfit), Abu, Rajah
Alice in Wonderland
Daddies: Mad Hatter, King of Hearts (simple [just add a heart sash], deluxe, Playing Card style or actual playing card), Tweedle Dee/Dum, Caterpillar
Mommies: Alice (newer kind-of live action version or Classic animated version), Queen of Hearts/Red Queen (recent version plus wig/hat & crown), White Queen
Sons: Mad Hatter (classic animated version), March Hare (Tim Burton version), White Rabbit (top hat + ears), Tweedle Dee/Tweedle Dum (Tim Burton), Caterpillar
Daughters: Alice, Queen of Hearts, White Rabbit (top hat + ears), Cheshire Cat
Babies: Cheshire Cat, face card
Beauty & the Beast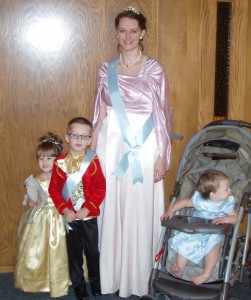 Daddies: Beast (Prince costume + Wolf Gloves), Lumiere
Mommies: Sorceress, Belle, Mrs. Potts (if you have $500 to spend)
Sons: Beast, Cogsworth, Chip, Lumiere
Daughters: Belle, feather duster
Babies: Belle, Chip
Cinderella or Sleeping Beauty
Daddies: Prince (or another prince), King
Mommies: Princess (Cinderella/Sleeping Beauty), Queen, Maleficent
Sons: Prince, Horse, Mouse, Forest creatures
Daughters: Princess (Cinderella or Sleeping Beauty), Fairy, Mouse, Forest creatures
Babies: Lucifer (the cat in Cinderella), Fairy
Incredibles
Daddies: Mr. Incredible
Mommies: Mrs. Incredible
Sons: Dash
Daughters: Violet
Babies: Jack Jack
Mickey Mouse
Men: Mickey Mouse, Donald Duck, Goofy
Women: Minnie Mouse, Daisy Duck
Babies: Goofy, Pluto, Huey, Dewey & Louie, Mickey Mouse, Minnie Mouse
Peter Pan
Daddies: Captain Hook, Father (wear suit or tux), Peter Pan
Mommies: Wendy, Mother (wear gown)
Sons: Peter Pan, John and Michael (wear nightgowns and Top Hats), Lost Boys, Captain Hook
Daughters: Tinker Bell, Mermaid (modest!)
Babies: Crocodile, Lost Boy, Fairy, Mermaid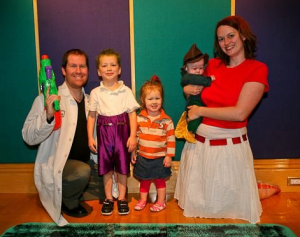 Phineas & Ferb
Daddies: Lawrence Fletcher (white polo with red cuffs & hem and green shield/pocket on chest, blue pants or jeans, glasses), Dr. Doofenshmirtz (black turtleneck, gray pants, lab coat, large "inator" [water gun]), Major Monogram (olive drab with purple MM monogram)
Mommies: Linda Flynn-Fletcher (white collared shirt, yellow sweater vest, green capris, red hair) (or Lindana: pink tube top, gold hoop earrings, jean jacket, green hairbow with pink polkadots, TOY belt buckle, green miniskirt, grey tights, pink? leggings), Candace (coral shirt, white skirt with red ribbon/belt, coral socks, white shoes, orange hair)
Sons: Phineas (orange and white striped shirt, blue shorts, red hair), Ferb (white shirt, high-waisted purple shorts with gray ribbon/belt, green hair), Buford (black skull shirt, olive drab shorts, wallet chain), Baljeet (white shirt, jean shortalls)
Daughters: Candace, Isabella (white shirt, pink jumper dress, pink hairbow)
Babies: Perry the Platypus (Agent P) (green onesie, green tights, tail, bill, flippers and fedora)
Princess & the Frog
Daddies: Big Daddy, Shadow Man/Dr. Facilier, Prince
Mommies: Lottie, Eudora (Tiana's mom)
Sons: Prince Naveen, Ray (the firefly), Louis (the alligator)
Daughters: Princess Tiana, Lottie
Babies: A Frog!
Robin Hood
Men: Robin Hood (adult, child, child option 2), Prince John (adult or child), Little John (adult or child), Sheriff of Nottingham (adult)
Women: Maid Marian (adult, teen?, children), Lady in waiting (adult, adult option 2, child)
Babies (Disney animal version): Baby bunny, Allan-a-dale (Rooster toddler sewing pattern)
Snow White
Daddies: Prince, Dwarf (hat)
Mommies: Snow White, Evil Queen
Sons: Dwarf, Prince
Daughters: Snow White
Babies: Forest animal, Dopey, Snow White
Tangled
Daddies: Flynn Rider, King
Mommies: RapunzelMother Gothel (cloak), Queen
Sons: Flynn Rider (close the vest and lose the hat—seriously, why aren't they selling these on Amazon?)
Daughters: Rapunzel (and wig)
Babies: Pascal
Toy Story
Daddies: Buzz Lightyear, Woody, Rex, Ken, Mr. Potato Head, Hamm
Mommies: Jessie, Barbie, Mrs. Potato Head
Sons: Buzz Lightyear, Woody, Rex, Hamm, Mr. Potato Head
Daughters: Jessie, Barbie, Mrs. Potato Head
Babies: Alien, Lotso, Slinky dog?, Buzz, Hamm, Woody
Disney | Other movies | Fairy Tales & Nursery Rhymes | Classics | Food & Candy
Back to top
Other movies & TV shows
Addams Family
Daddies: Gomez (wig & mustache), Uncle Fester, Morticia
Mommies: Morticia (and wig), Grandmama
Sons: Pugsley, Uncle Fester
Daughters: Wednesday, Morticia, Grandmama
Babies: Baby, Cousin Itt
Alvin & the Chipmunks
Daddies: Dave
Mommies: Chipmunk, Chipette, Beatrice Miller (Chipettes' "mom")
Sons: Alvin the Chipmunk (or Simon or Theodore)
Daughters: Chipettes or Chipmunks
Babies: Chipmunk/Chipette
Avengers
Daddies: Iron Man, Thor, Hulk, Nick Fury, Captain America, the other one (Hawkeye)
Mommies: Black Widow, Pepper Potts (business attire)
Sons: Iron Man, Thor, Hulk, Captain America (These costumes also come in toddler sizes starting at 3T!), Hawkeye (aka the other one)
Daughters: Black Widow
Babies: Hulk (you wouldn't like them when they're angry!)
Barney
Barney (adult or child), Baby Bop (Child), B.J., Riff (child), kids
Blue's Clues
Daddies: Steve, Blue, Mr. Salt
Mommies: Magenta, Periwinkle, Mrs. Pepper
Sons: Blue, Green Puppy, Steve
Daughters: Blue (she's a girl, you know), Magenta, Periwinkle
Babies: Green puppy, Blue (crawling/walking or in arms), Cinnamon, Paprika
The Brady Bunch
Daddies: Mike Brady
Mommies: Carol Brady (wig), Alice (wig)
Sons (for some reason, all the Brady kids costumes are adult sized, but you can get some inspiration from the pictures): Greg Brady (wig), Peter Brady, Bobby Brady (wig), or Sunshine Day version
Daughters: Marcia Brady (wig), Jan Brady (wig), Cindy Brady (wig)
Babies: Tiger (the first season dog)
Charlie Brown
Men: Charlie (adult or child), Linus (adult or child), Schroeder, Snoopy (child), Woodstock (adult)
Women: Sally (adult or child), Lucy (adult or child)
Babies: Snoopy, Woodstock, Blankie!, PigPen
Flintstones
Daddies: Fred Flintstone, Barney Rubble, Dino
Mommies: Wilma Flintstone, Betty Rubble
Sons: Fred Flintstone, Barney, Bamm-Bamm, Dino
Daughters: Wilma Flintstone, Betty, Pebbles, Dino
Babies: Bamm-Bamm, Pebbles, Dino, Baby Puss (saber-toothed tiger)
Grease
Boys: Danny (adult or child), T-bird (jacket)
Girls: Sandy (adult or modest child), Rizzo (adult), Frenchie, Pink Ladies Child, Rydell Cheerleader, poodle skirt
Harry Potter
Daddies: Dumbledore, Slytherin (you know, for Snape), Lupin, Sirius Black, Harry Potter, James Potter, Lucius Malfoy, Voldemort
Mommies: Professor Hooch, Professor McGonagall, Professor Trelawney, Lily Potter
Sons: Harry or Ron, Draco, Professors, Dementor
Daughters: Hermoine, Professors, Bellatrix
Babies: Golden Snitch, Crookshanks, Scabbers
Scooby Doo
Daddies: Shaggy, Fred, Scooby Doo
Mommies: Velma, Daphne
Sons: Shaggy, Fred, Scooby or Scrappy Doo
Daughters: Velma, Daphne
Babies: Scooby Doo or Scooby-Doo (in arms) (or Scrappy Doo)
Sesame Street
Daddies: Elmo, Big Bird, Snuffy, Cookie Monster, The Count, Bert, Ernie
Mommies: Maria, Rosita
Sons: Elmo, Telly, Barkley, SuperGrover, Cookie Monster, Big Bird
Daughters: Abby, Frilly Big Bird,Zoe
Babies: Alien!
Shrek
Daddies: Shrek, King, Prince Charming, Gingerbread Man, other Fairy Tale Character
Mommies: Princess Fiona, Queen, Fairy Godmother
Sons: Shrek, Donkey, Gingerbread Man, Puss 'N Boots
Daughters: Fiona (ogre warrior) or Princess Fiona, Fairy Godmother,
Babies: Puss N Boots, Donkey, Baby Shrek (or in arms)
Simpsons
Homer Simpson, Marge Simpson, Bart Simpson mask, Bartman, Mr Burns
Smurfs
Star Trek
Uniform: adult The Next Generation ('90s) Men, The Next Generation ('90s) Women, Classic Dress, Classic Shirt, Classic children outfit, Baby Kirk, Baby Spock, Vulcan Ears, etc.
Star Wars
Daddies: Vader, Emperor (Robe), Stormtrooper, Jar Jar Binks, Anakin, Obi-Wan, Luke, Han Solo (or, if you want to go by this listing, "Hans." Must be his Scandinavian cousin.), X-Wing Fighter Pilot, Darth Maul, Boba Fett, Chewbacca
Mommies: Leia (all right, all right, here's the golden bikini), Padmé Amidala (red gown or white jumpsuit)
Sons: Luke, Clone Trooper Captain Rex, Boba Fett, Jedi Robe, Anakin, General Grievous, Vader, X-Wing Pilot, Darth Maul, Stormtrooper
Daughters: Princess Leia (no golden bikinis here), Padme Amidala
Babies: Yoda! R2-D2! C-3PO! X-Wing Fighter Pilot, Queen Amidala, Luke/Obi-Wan/Qui-Gon, Vader, Ewok, Leia
Superheroes
Daddies: Superman, Batman, Spiderman, Wolverine, Green Lantern T-Shirt, Thor, Captain America
Mommies: Wonder Woman, Catwoman (I know, right up there with Leia's gold bikini), Supergirl, The Flash
Sons: Superman, Batman, Spiderman, Robin, Green Lantern, Iron Man
Daughters: Wonder Woman, Batgirl, Supergirl
Babies: Robin, Superman (in arms), Superman (walking/crawling), Batman, Captain America, Wonder Woman, Supergirl, just wear a cape
Willy Wonka
Daddies: Willy Wonka (hat), Mr. Bucket, Grandpa Joe
Mommies: Grandma Josephine, Mrs. Bucket, any of the mothers or girls
Sons: Charlie, Oompa Loompa (Green wig or black wig)
Daughters: Violet, Veruca, Oompa Loompa
Babies: Oompa Loompa
Winnie the Pooh
Daddies: Tigger (ears and tail), Rabbit, Owl, Eeyore (ears and tail), Pooh (ears)
Mommies: Kanga
Kids: Christopher Robin, Winnie the Pooh (or Winnie the Pooh baby/toddler), Roo, Piglet (and Piglet baby), Tigger or Tigger (baby), Owl (baby), Eeyore (and Eeyore baby)
Wizard of Oz
Daddies: Wizard, Tin Man, Cowardly Lion, Scarecrow, Flying Monkey
Mommies: Dororthy, Glinda, Wicked Witch of the West
Sons: Wizard, Tin Man, Cowardly Lion, Scarecrow, Munchkin (Lollipop Guild?)
Daughters: Dorothy (plus Toto in a Basket), Glinda, Wicked Witch of the West, Munchkin (Lollipop Guild?)
Babies: Cowardly Lion, Wicked Witch of the West, Scarecrow, Dorothy, Tinman, Flying Monkey, Munchkin (Lollipop Guild?)
X-Men
Daddies: Cyclops, Wolverine, Beast, Magneto, Gambit
Mommies: Mystique, Storm (wig), Rogue
Sons: Wolverine, Beast
Daughters: Storm, Rogue
Babies: Especially cute if you've got a little baldy: put the baby in a tiny suit and stick him/her in the stroller. You've got Professor X!
Disney | Other movies | Fairy Tales & Nursery Rhymes | Classics | Food & Candy
Back to top
Fairy Tales & Nursery Rhymes
Goldilocks & the Three Bears
Daddies: Papa Bear (or ears and paws)
Mommies: Mama Bear, Goldilocks
Sons: Baby bear (toddler) or Baby bear (infant)
Daughters: Goldilocks (Child) or Goldilocks (toddler)
Little Red Riding Hood
Daddies: Big Bad Wolf, Woodcutter (axe)
Mommies: Little Red Riding Hood, Grandmother (wig)
Sons: Big Bad Wolf, Woodcutter (axe)
Daughters: Lil' Red Riding Hood
Mary Had a Little Lamb
Daddies: Teacher, Farmer
Mommies: Mary
Babies: pink lamb or blue lamb or Little Bo Peep
Three Blind Mice
Plus butcher/farmer & wife: mouse ears and tail or baby mouse
Three Little Pigs
With Big Bad Wolf (child), and Pig Nose, Ears & Tail (and building materials)
Three men in a tub
Possibly for three children or a family of three: butcher (make your own unless you're going for terrifying), baker kids or adults, candlestick maker (ummm . . . ?)
Disney | Other movies | Fairy Tales & Nursery Rhymes | Classics | Food & Candy
Back to top
(Modern) Classics
Barbie & Ken
Daddies: Ken
Mommies: Barbie
Kids: Barbie-style kids, pets
Daddies: King Kandy, Lord Licorice
Mommies: Grandma Nutt/Gooey, Mamma Ginger Tree, Queen Frostine
Sons: Mr. Mint, Gingerbread man
Daughters: (Princess) Lolly, Princess Frostine
Babies: Gloppy
Circus
Daddies: Ringmaster
Mommies: Ringmaster/lion tamer
Kids: lion, clown
Claw game & stuffed animals
Clue
Men: Mr. Body (Dr. Black outside of North America), Col. Mustard, Mr./Rev. Green, Professor Plum
Women: Mrs. White, Miss Scarlet(t), Mrs. Peacock
Kids: as above, dice, murder weapons
Crayons
Farm
Parents: Farmers, cow, horse
Kids: Horse, cow
Babies: the Cheese (you know, it stands alone?), Farmer, horse, cow
Nintendo
Daddies: Mario, Luigi, Waluigi, Wario, Donkey Kong
Mommies: Princess Peach, Yoshi
Sons: Mario, Luigi, Donkey Kong, Yoshi, Toadstool, Ash (Pokemon Trainer)
Daughters: Princess Peach, Yoshi, Pikachu
Babies: Jigglypuff, Toadstool
Pac-Man
Daddies: Pac-Man, Ghost
Mommies: Ms. Pac-Man (add a bow), Ghost
Kids: Pac-Man, Ghost, fruit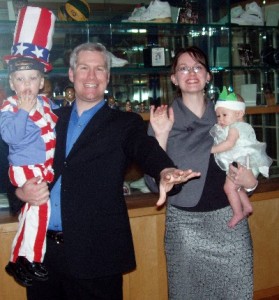 Politicians
Adults: suits and best smiles
Kids: Uncle Sam, Statue of Liberty
President & Secret Service Agents
Suits, sunglasses and earbuds
Queen Bee
Daddies: Bee keeper (veil for hat), bear
Mommies: Queen Bee
Kids: flower (baby flower), honey bear (baby honey bear), bee baby bee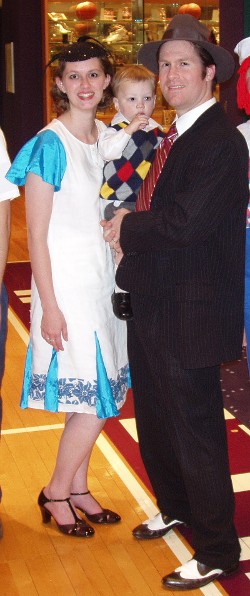 Roaring Twenties
Royal Family
Safari
Daddies: Safari Man (pith helmet & binoculars)
Mommies: Safari Mom (you could always wear your own khakis)
Kids: safari kid, elephant, leopard, giraffe, lion, hippo
Dr. Seuss
Daddies: Cat in the Hat or hat & gloves), Sneetch, Pants with no one in them (now that's scary), Thing 1 or 2, Horton, Grinch
Mommies: Sneetch, Thing 1 or 2
Sons: Sneetch, Thing 1 or 2, Cat in the Hat, Horton
Daughters: Sneetch, Thing 1 or 2, Cat in the Hat, Horton
Babies: Sneetch, Lorax
Three musketeers
Daddies: King, Cardinal Richelieu, musketeer
Mommies: Queen, Constance, Milady DeWinter, musketeer
Kids: Musketeers (child, Toddler or candy bar), Constance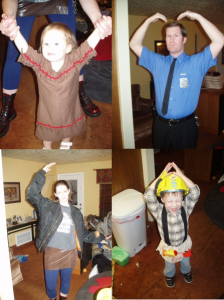 The Village People
Construction Worker, biker, Indian (you know, Native American), Policeman, Cowboy, G.I.
Zombies (probably too scary for little kids)
Disney | Other movies | Fairy Tales & Nursery Rhymes | Classics | Food & Candy
Back to top
Food and candy
Fruit of the Loom guys
Sugar Daddy candies
Daddies: Sugar Daddy
Mommies: Sugar Mama
Kids: Sugar Babies Child or Sugar Babies Baby
Hot dog
Parents: Mustard or Ketchup bottle, Hot dog
Kids: Hot Dog Child, Hot Dog Baby, Ketchup
Disney | Other movies | Fairy Tales & Nursery Rhymes | Classics | Food & Candy
Back to top
---
Sources:
Disney | Other movies | Fairy Tales & Nursery Rhymes | Classics | Food & Candy
Back to top
---
For 2012, shared with:
Keeping it Simple Crafts
Sumo's Sweet Stuff