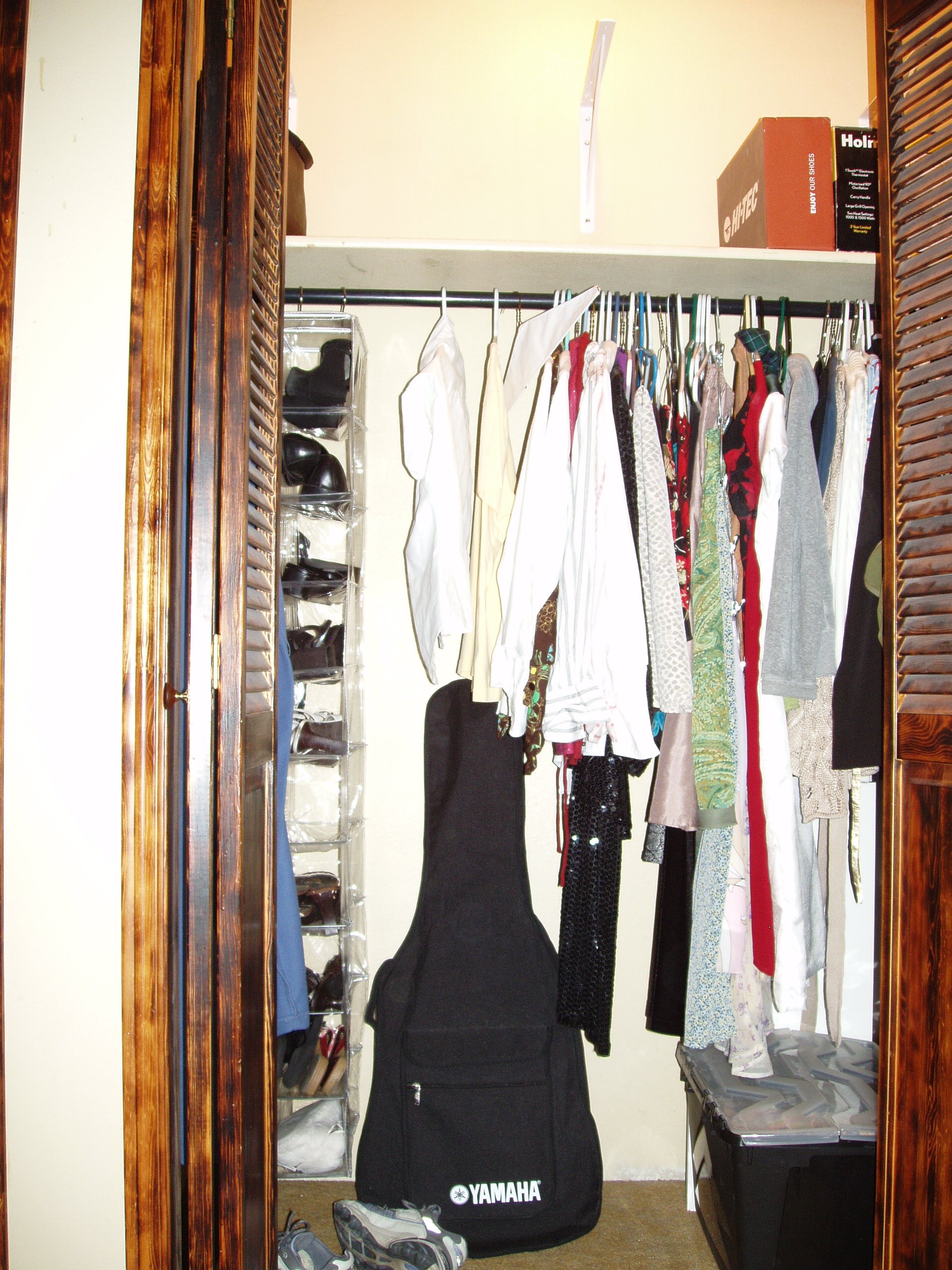 Since Lindsey asked, I thought I'd share my methodology for organizing closets. I did three in one week in March (and one was the craft closet/guest bed & bath linen closet, so you know it was stuffed!).
Before beginning: assess the damage. Figure out what organizing accessories you might need: hangers, bins, shoe shelves or hanging organizers (if so, approximately how many slots or linear inches will you need?). Find an activity for your children, if necessary (Hayden "helped" me—he's really good at playing by himself).
Here's my big secret: Pick a day and just do it. This might mean emptying the entire closet onto your bed or floor. That's what I did. I took everything off the bar in my closet and sorted it into piles (still on hangers).
To make clothes look neater, hang them by garment length, sleeve length and/or color. My closet (above) is sorted by both garment and sleeve length. Ryan's is sorted (kind of) by color and sleeve length.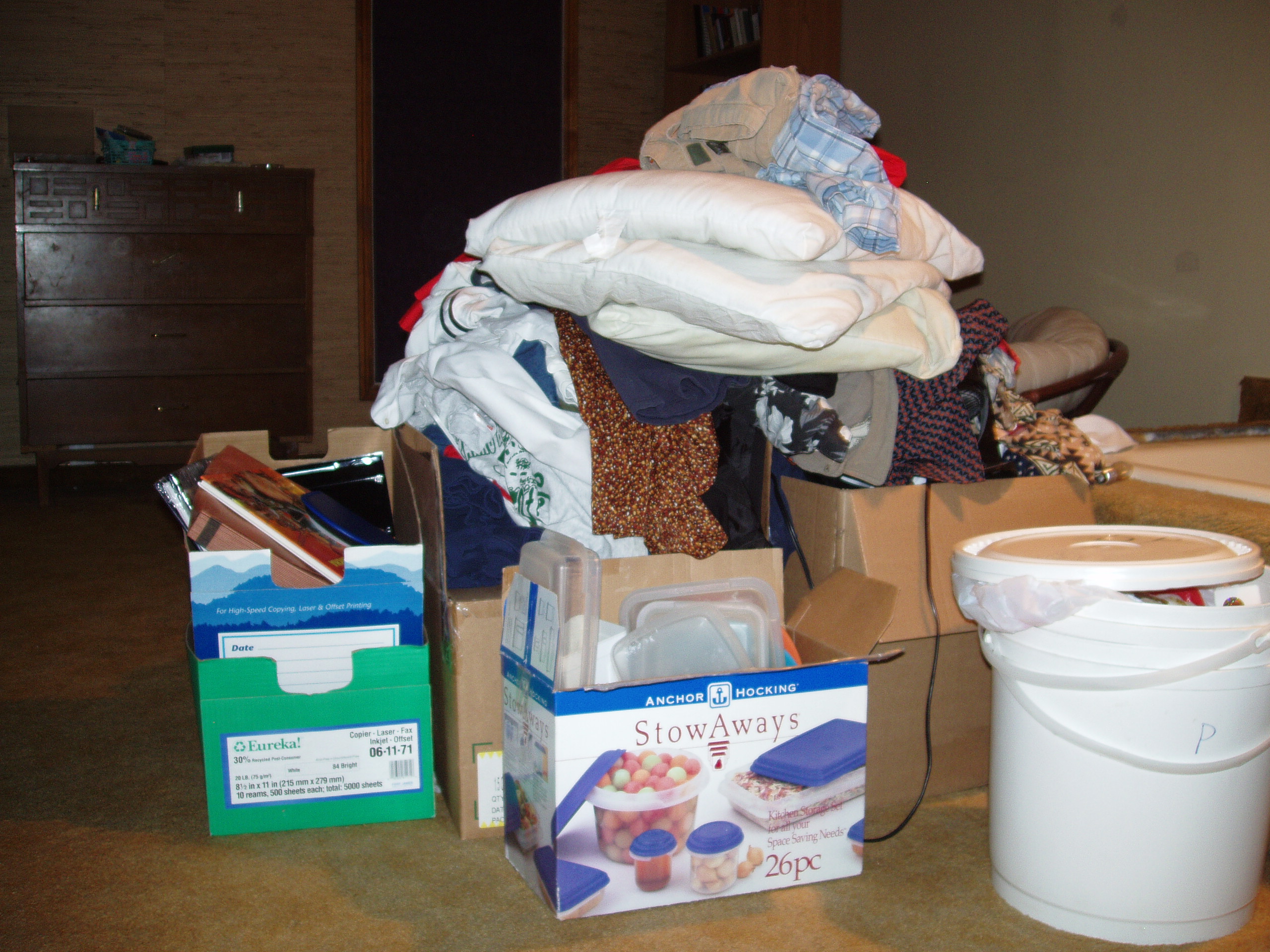 Get rid of anything that doesn't fit you (unless you're pregnant and fairly sure you'll be able to wear an outfit again by this time next year). Get rid of anything that doesn't look good on you. Get rid of anything you don't love. (This is why my Goodwill pile, right, is so big.)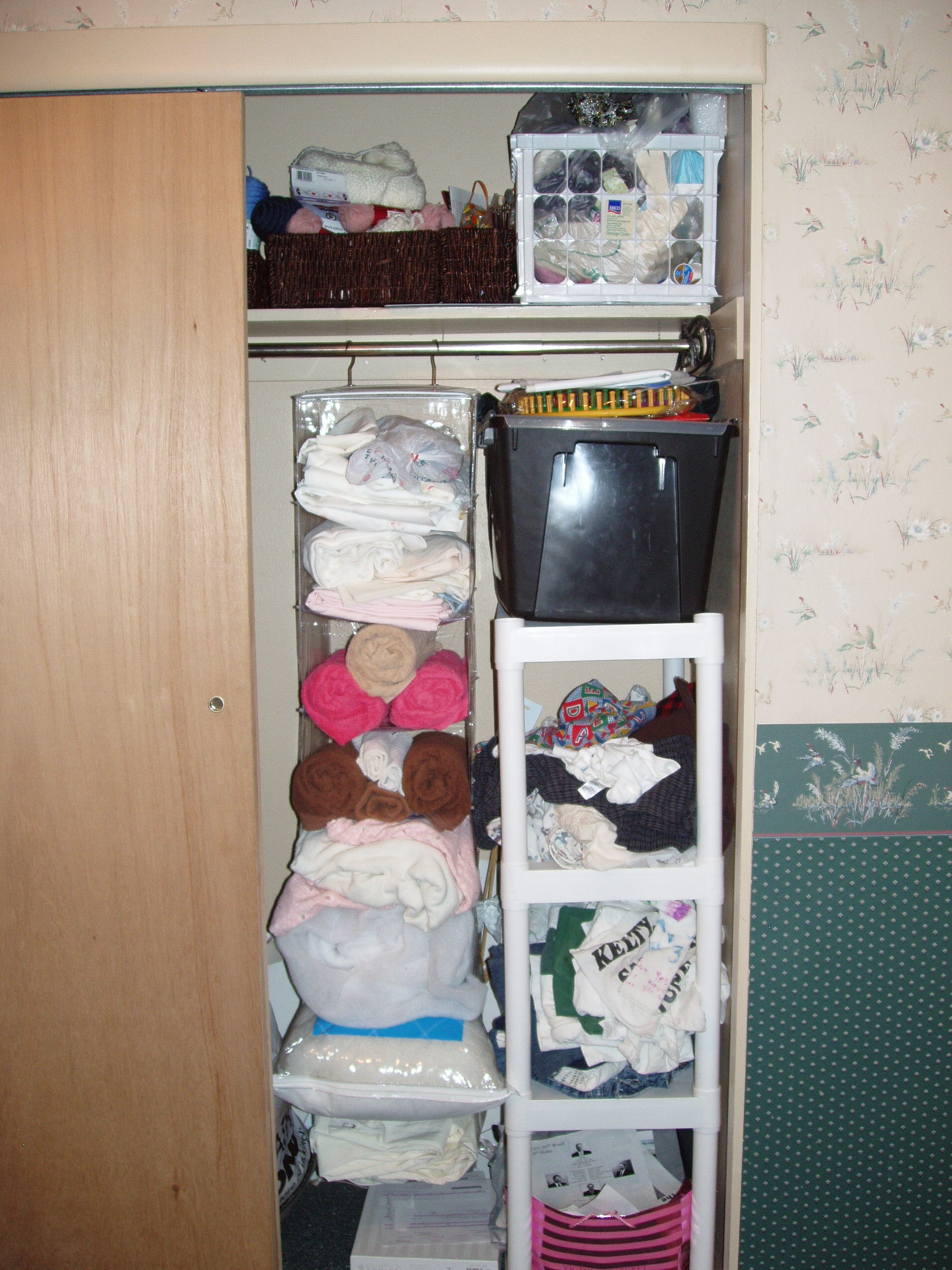 To make the closet look even cleaner, consider hanging sweater and shoe organizers and overhead shelf space. A clear floor does wonders for making that small space look neater. I have a hanging shoe organizer and two boxes on the top shelf. I have one big plastic bin on the floor of my closet that I'm trying to get rid of. (And a guitar and a flute, but I'm keeping them.)
Don't have any shelves? You can buy cheap plastic shelves (like in my guest closet above) or wall-mounted shelving units to hang above the bar in your closet or elsewhere. When I was shopping for organizing stuff for this project, I saw entire shelf organizing systems that featured adjustable-height, wall-mounted bars, shelves and drawers. Barring that, buy under-bed storage boxes and put everything under the bed.
Make sure that the organized state of your closet is something you can maintain. What is more frustrating than taking a lot of time to reorganize your whole closet than to have it last for only a couple days? As I'm learning all the time, to keep something clean, you have to pick up after yourself and put things back in their places.
And the other big way I can help you: you can do it! I promise! If you can't seem to be able to do it all at once, then even 15 minutes a day will make a difference. Really—if I had done it that way, it still would have taken less than two weeks.
Do you have any closet or other organizing tips? Leave a comment and be entered to win!
For more Works for Me Wednesday, visit Rocks in My Dryer, one of the 30 most Popular Parenting Blogs!